Christmas Gift Ideas
Posted on 18th December 2015

If your family are anything like mine you have already started taking calls from sisters, brothers, parents and a host of friends all asking what they can buy for your kids for Christmas. With only a week to go you have already requested almost every bit of plastic in Toys R Us and are rapidly running out of ideas. Worry not!
This year why not think ahead to swimming lessons in the New Year. Even very young babies and children get huge benefits from early stage swimming and it's never to soon to start planning even if you are still pregnant.
Have a look at our top ten presents and start the year with a Splash!
10. Fantastic warm and cozy Apres Splash set.
Wrap babies and toddlers up snuggly and warm after swimming in this all natural bamboo cotton toweling set. Perfect from grandparents for after swim or after bath.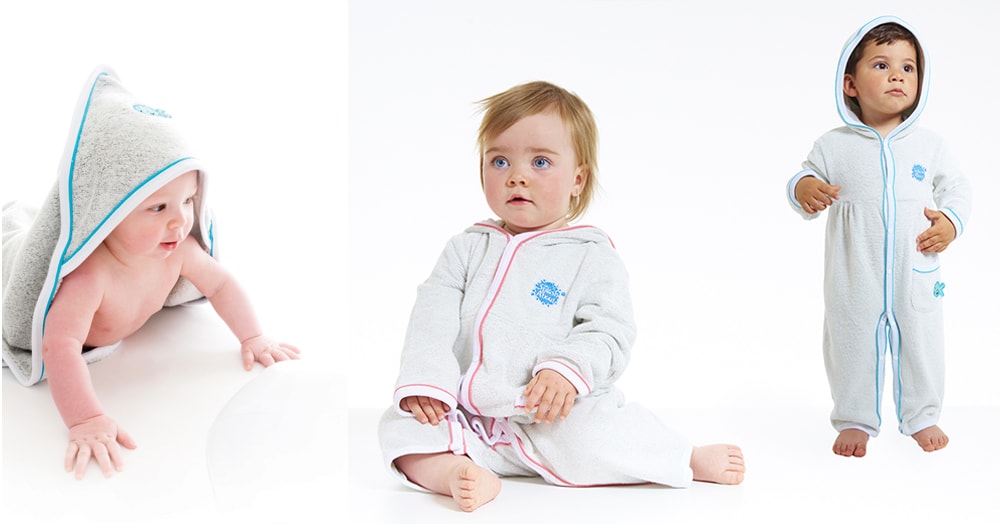 9. Changing Mat and Happy Nappy
Get prepared for the swim school term with this Happy Nappy and changing mat set. Approved by swim schools in the UK and insisted upon by most, the famous Happy Nappy is the most trusted of reusable swim nappies, bought with the award winning antibacterial changing mat and you are all set for lessons in the new year.
8. Keep warm in the water with the amazing award winning Baby Warm In One.
This fleecy lined super soft wetsuit is perfect for new babies and those that feel the chill. No need for shivers and shakes with this cozy and comfortable outfit. Perfect for swim lessons in the winter season. Also protects sensitive skin against the harsh affects of chlorine on sensitive baby skin.
7. Cap and wrap, the perfect multibuy for those first lessons.
Available in matching designs. These super soft caps protect sensitive skin whilst keeping in the heat and the versatile baby wrap opens flat so its super easy to get on and off again.
6. Stomp Suit
OK not strictly for swimming but definitely for Splashing about. This comfy waterproof all in one is practical and great looking. Choose Dino print of Russian dollies for the perfect puddle stomping look.
5. Fabulous Fings
Out with the old boring float and in with the award winning Fings. Float and wings in one, to perfectly position your toddler in the water. Tucked under their arms allowing total freedom of movement Fings is the number 1 choice in floatation. Also excellent for making massive splashes with!
4. Happy Nappy wetsuit
We couldn't not mention this years super award winner. The Happy Nappy Wetsuit is the only baby wetsuit on the market that has a Happy Nappy reusable swim nappy inside. So it's the only product you need in swim class. Great value for money and unbeatable protection against leaks. It's the swim teacher's favourite product.
3.Happy Nappy costume
With all the protection of the Famous award winning Happy Nappy now built into a costume. Available from birth to age 3, the Happy Nappy costume will make any little girl look like the star of the class.
2. The baby mirror
Introduced this year the baby mirror is the perfect anti cry toy for use in the bath and in the pool. For those babies and toddlers who don't like the water (yes there are lots who don't) this baby mirror with its cleverly designed curved edges is the perfect size to hold and chew and spotting their own reflection is usually the start of giggling rather than crying. If it's distraction you are after you cant go wrong with the baby swim mirror.
1. Happy Nappy system
Its at number 1 because its still the world's number 1 reusable swim nappy. Designed to be the ultimate in protection against leaks in the pool and now available in swim schools all over the world. Start the term in style with a Happy Nappy system, available in over 20 fabulous designs to suit even the fussiest baby.
So that's it, our top 10 Splash gifts for Christmas and with only 1 week to go its getting very busy out there. Wrap up, have fun and thank you for joining us this year at Splash About. It's been a pleasure looking after so many babies, parents and teachers and we look forward to serving you all again in 2016.