It's officially the start of summer!
Posted on 29th May 2015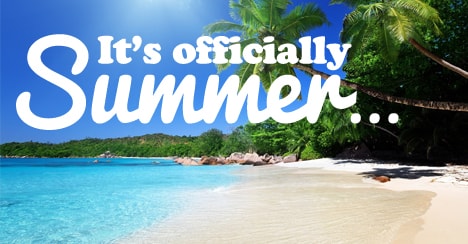 It's Officially the start of Summer!
It's never too soon to start protecting babies and children's' skin from the harmful rays of the sun. There are a vast array of quality sun creams out there, but remember to double up with UV clothing for the best all round protection. In the last few years, UV protection clothing has become more available and with Splash About's award winning range leading the fashion stakes as well, there is no excuse for not getting kitted out.
Splash About has been at the forefront of UV protective clothing development for over 15 years, working with leading Health Care and UV professionals in Australia and the UK to design and create fantastic looking and robust UPF 50+ protective clothing. From throw on rash tops, to All–in-One UV suits we have made sure there is something for everyone this summer.
Going abroad?...
Its just not that easy to stay out of the sun as recommended between 10am and 3pm, in fact you are on holiday to enjoy the hot weather not hide from it! But babies, toddlers and young children not only have a much lower burn threshold (due to their skins are so delicate) but they also have far less tolerance for the heat. In order to give yourself the best relaxing time you can, it pays to invest in the right clothing for the children, keep them cool whilst keeping them covered up is the answer.
All Splash About UV clothing also has the unique property of wicking away perspiration, which helps to regulate body temperature in the heat. This two in one luxurious fabric is your best defense in the sun. Make sure you cover your child in a high factor sun cream all over and then slip on some UV clothing. Reapply the sun cream every 2 or 3 hours, or after then have been in water. Even the waterproof creams are really only water-resistant and you should reapply after every dip.
Hats and glasses….
Are key to protecting the top of heads and eyes from the sun. The Splash About range is of the highest quality and UV standards ensuring protection from the sun. Our range of hats in lots of styles and colours are great value for money, from pool side hats that are fast drying and non iron, to legionnaire styles for full neck cover, all are available from stock for next day delivery. Our baby sunglasses even have a soft comfortable band that fits around the back of the head to keep the glasses in place.
What will I need ?…
Your kids basic UV wardrobe should include a hat and a rash top as a minimum. But babies and toddlers benefit more from an all in one outfit, so that tummy areas don't become exposed to the sun as they crawl about. For hotter climates add a long sleeve rash top and shorts, these long shorts give added protection to the thighs and are perfect to messing about round the pool. For the ultimate all in one we would recommend the UV Float Suit, this combines our UV cover with buoyancy. A great 2 in 1 idea that's stormed up our sales rankings in 2014 and look set to be a sell out this summer.
Wherever you are headed this summer, get protected in style with Splash About's designer range of fantastic UV clothing products.