Becky's Boudoir Product Review Hooded Towels and Sunsuits
Posted on 15th August 2018

Becky's Boudoir
Full Review:
So far this year we've had an amazing summer of sun. Unlike our typical British summer, which usually sees us blighted by many a wet spell, we've had much sunshine and heat. Whether you like or loathe the high temperatures, you can't dispute it's nothing a day at the seaside can't fix.
As Reuben hadn't experienced the beach before I was determined this summer would be full of sea and sand adventures! So with the coast less an hour away we've exploited every opportunity to head down and make the most of the gorgeous weather.
Last week we returned to pretty Yorkshire seaside town, Saltburn-by-the-Sea, where instead of sticking close to the more populated pier and amusements we headed further up the beach nearer the cliffs in search of a quieter spot. Unfortunately this led us into the dog zone which wasn't the most pleasant environment at times (dog poop in the sand, anyone?), but it was good to get much of the beach to ourselves. Although it was pretty much overcast, it was still humid and the sea still beckoned, so out came the bikini for me and swim shorts for the lads.
Well actually, this time Reuben had some new beach wear to kit himself out in. Wanting to ensure Reuben was adequately protected by the sun (which kept make appearances) and warm enough (since the sea water is still a little cold, no matter how hot the air is) I dressed him in an ultra violet protecting all-in-one swim suit.
The UV All-In-One Sun Suit by children's swim lifestyle brand Splash About is the perfect beach wear for babies and toddlers, 6 months to four years old, wanting to enjoy all that the seaside offers while playing sun-safe.
Reuben received the 'Turtle Mania' Sun Suit (Size 1-2YRS / £19.99), a cute, modern design featuring a playful turtle print in cool blue tones. It's a gorgeous little suit with a vibrancy that doesn't look out of place down the beach or local swimming pool.
In a soft, light fabric that boasts UPF50+ sun filtering properties, the UV All In One ensures delicate skin is comfortably cool and protected from the damaging sun. With a high neck and long sleeves, the suit offers a high level of body coverage, while the cropped 3/4 length legs allow little ones to feel sand and sea against the skin.
The All-In-One is easy to put on, even on a wriggling toddler too keen to explore beach life! Once you've secured a swim nappy (disposable pull up swim pants or a non-disposable like Splash About's Nappy Wrap), the suit simply slips on over arms and legs and fastens with a chunky zip.
Reuben's coming up 18 months and he fits into the 1-2 year old size suit well; it's snug and close fitting but there's visibly plenty growing room in it. The sleeves are nice and long, finishing right on the wrist so they don't ride up short but equally aren't over long to get in the way. The leg cuts off just below the knee which, although would be quite good if they finished mid-way on the calf or were even ankle length, is a practical style for Reuben's level of activity.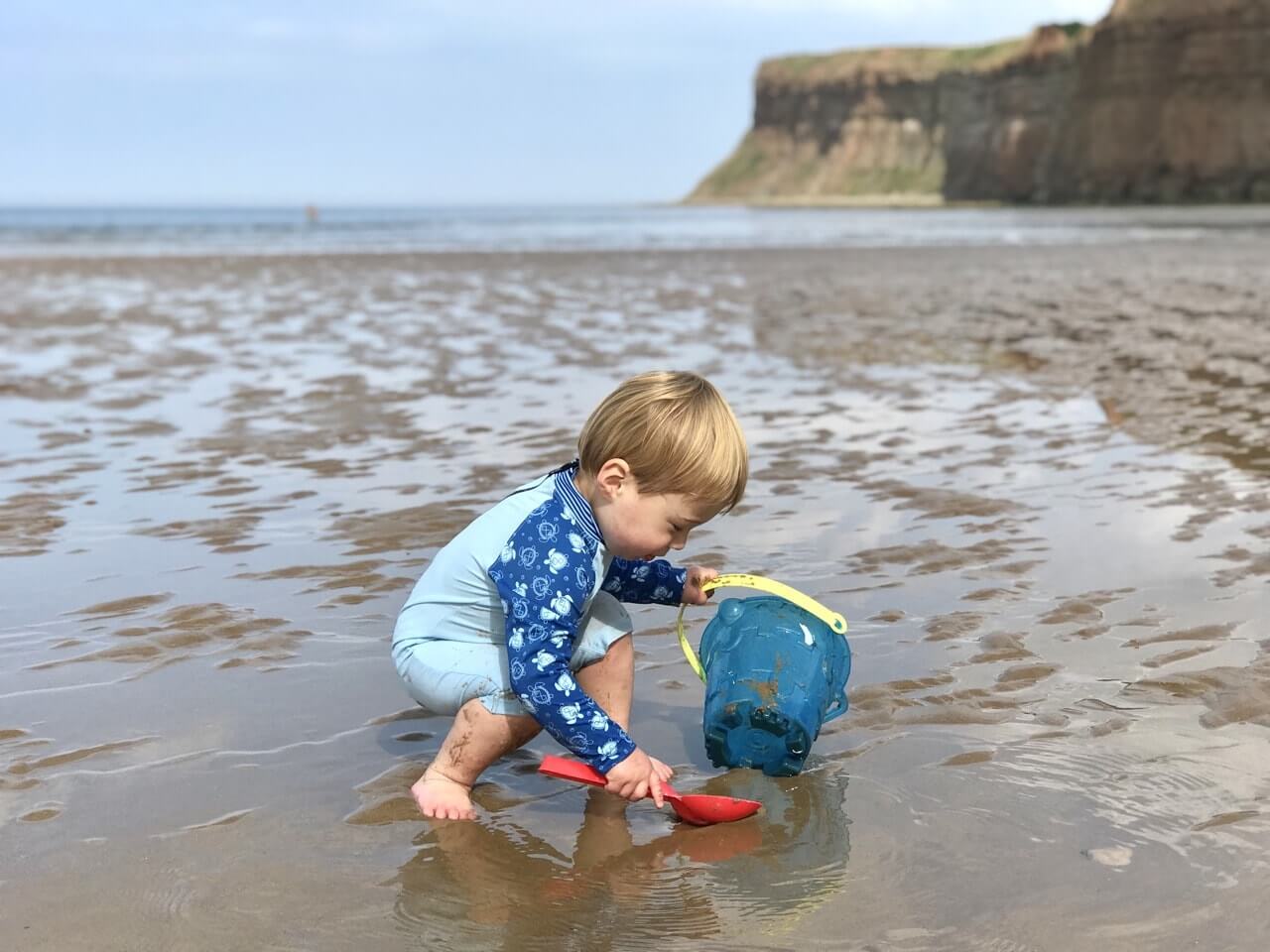 Reuben wasn't phased by being dressed in the sunsuit, in fact he appeared to actually quite enjoy wearing it. This, I believe, is totally down to the comfortable fit that does't make him feel restricted or cooped in, allowing him the freedom to play.
When beach play came to a close it was time to get changed again. This is usually fun and games in itself, when drying off becomes a towel wrestle, and one of us manages to wriggle free and run off butt naked down the beach (hint: it ain't me.) So I found using a poncho worked a charm at a time such as this.
Splash About's new Hooded Towel Poncho (one size / £19.99) comes in a choice of two colourways – blue or pink – in the Noah's Ark design. The blue poncho is a funky, vibrant style featuring a bold orange lion and Ark print.
Made in a light handle but densely thick 300mg towelling cotton, the poncho has a deeper loop pile than others we own, making it a more superior, more generously cut poncho. As it's 100% cotton it wicks super quickly, but unlike a regular towel it doesn't become cumbersome when wet. Its ample size, spanning a fraction off 60cm squared, covers Reuben literally from head to toe and arm to arm too, with the deep hood and broad cut swathing Reuben's whole body so he's nicely covered and cosy.
The poncho, being a wearable towelling garment, meant Reuben could be quickly covered and dried off, allowing him to potter about on the beach while Mum and Dad got ready.
The All in One suit and poncho have been a fab little combo to take out with us because they're so light to carry and don't take up a lot of space in the beach bag. And then they're both super quick to dry, which means you're not lugging around heavy wet clothes or towels (no, just Mum and Dad's heavy-ass towel!)
Becky's Boudoir
15th August 2018